What is the Crypto currency Stack (STX)? Future potential and latest major exchange chart analysis
In 2020, Blockstack changed its brand name to " Stacks ". Even in the cryptocurrency area, Recruit's investment in 2019 has become a hot topic.
The main purpose of Stacks is to improve the convenience of Bitcoin, which is an immovable existence.
This time , we will deliver basic information, future potential, and chart analysis of major exchanges of " Crypto Currency Stacks (STX)".
What is Crypto currency Stacks (STX)?
Stacks' original token "STX"
The future of cryptocurrency Stacks (STX)
Exchanges where Crypto currency Stack is listed and how to purchase
Cryptocurrency Stack (STX) Summary
What is Crypto currency Stacks (STX)?
Basic information on Stacks / STX
Market dominance
0.11%
Market ranking
55th place
Number of issues
1,818,000,000STX
* According to Coinmarketcap as of April 26, 2021
Stacks (formerly Block stacks) is a basic communication protocol created for the purpose of introducing smart contracts, DApps (decentralized apps) into Bitcoin.
It's a technical story, so it's difficult to understand, but it can be said that "Stacks" has inherited the characteristics of Bitcoin and improved security, stability, and convenience.
Stacks and DApps (decentralized apps)
DApps (decentralized apps) are a major feature that allows developers to jointly build one app, creating features and economic zones that were not possible with conventional applications.
On the other hand, in development and operation that transcends barriers, issues remain in terms of payment methods and security.
On the Stacks platform, the aim is to solve the problem by using Bitcoin as the base of Stacks.
By using the Bitcoin blockchain, which is the most liquid in Cryptocurrency (cryptographic assets), it can be expected to be effective in terms of payment convenience and security.
Stacks' original token "STX"
Stacks has issued its own token, "STX". The Stacks platform operates on STX tokens. STX tokens have three main roles.
Executing smart contracts
Transaction processing
Cryptocurrency assets in Stacks 2.0 blockchain
A major feature is that it is treated as one asset within the Stacks platform.
For example, in other cryptocurrency projects, unique tokens are often used for paying remittance fees or exchanging for other crypto assets.
STX tokens have the functions of executing smart contracts and transaction processing, and may also be valued as crypto assets "digital assets" in the new economic zone in the future.
The future of cryptocurrency Stacks (STX)
The future of STX may be solid compared to other minor altcoins. Because it is not a structure that mines STX itself.
The structure of new STX issuance is such that it is performed in parallel with Bitcoin mining.
PoW (Proof of Work) ・ ・ ・ Bitcoin consensus algorithm
PoX (Proof of Transfer) ・ ・ ・ Stacks consensus algorithm
PoX's consensus algorithm is a very unique mining method for Stacks.
To put it simply, it has the advantage of stabilizing the future of STX tokens in proportion to the demand for Bitcoin.
For example, to mine STX, you always need Bitcoin. To put it simply, when you send Bitcoin to the Stacks platform, STX will be mined and you will receive STX tokens as a mining reward.
In other words, you can improve security by preparing one-step Bitcoin instead of simply mining tokens.
By the way, the upper limit of STX issuance is supposed to increase at regular intervals, but since Bitcoin is required, the scarcity value is actually likely to increase.
Stacks introduces "Clarity language"
"Clarity" is more secure than traditional programming languages, and it is easy to build smart contracts.
In recent years, it has been introduced in a cryptocurrency project that focuses on smart contracts.
For example, Algorithm. After all, it is the same except for smart contracts, but it is important to solve problems such as understanding good technology but difficult to introduce. With the introduction of Clarity, the future of Stacks will be even more promising.
Stacks is introducing a new smart contract programming language called Clarity.
Clarity is designed to be secure and easy to build with unambiguous syntax. This smart contract-centric programming language is also used in the ALGO blockchain.
Stacks mainnet release and SEC qualification
2019-2021 can be described as a "turbulent three years" for Stacks. In retrospect, it has undergone major evolution, including the first SEC (US Securities and Exchange Commission) certification as a cryptocurrency.
[2019] Obtain SEC certification (Reg + A) certification for deployment in the United States
[2020] Brand name changed from Block Stacks to Stacks
[2021] Stack 2.0 mainnet released
In particular, the acquisition of the SEC qualification in 2019 is a big plus for the crypto asset market. Stacks is now available for $ 28 million in sales and is clearly targeted at STX tokens.
To put it simply, the US Securities and Exchange Commission has approved Stocks and STX tokens as one product. In other words, the credibility was guaranteed by the world's largest financial power.
Exchanges where Crypto currency Stack is listed and how to purchase
Exchanges where Stacks (STX) are listed
The volume of STX / USDT is equivalent to about 3 billion yen per day, which is a large scale considering it as a minor altcoin.
Unfortunately, it has not been listed on global exchanges, but as I mentioned in the basic information, it is possible that it will be listed on global exchanges with strict regulations due to the fact that it holds SEC qualifications.
STX / USDT chart analysis / forecast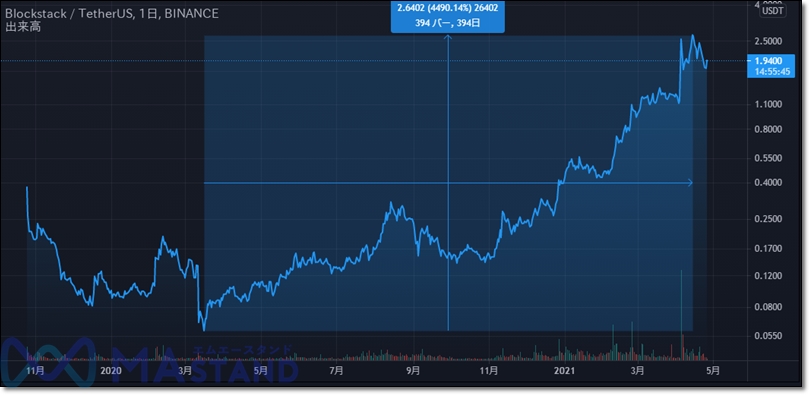 The STX token, which hit the bottom in March 2020, was less than 10 yen when converted to Japanese yen.
However, from 2020 to April 2021, it has risen strongly.
At the time of writing this article, STX / USDT has reached a record high of JPY 208, which is 44 times the price in a year.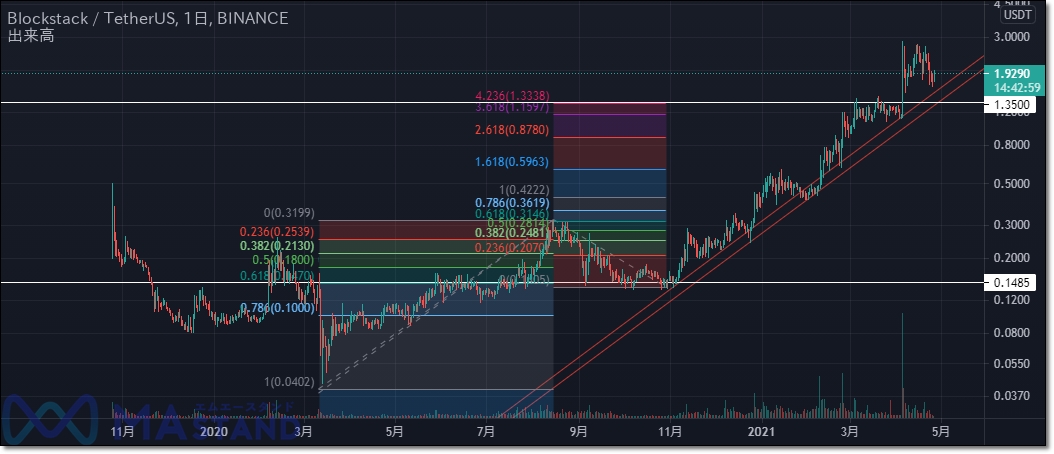 Looking back at the charts to date, STX / USDT has been prominently conscious of Fibonacci tools.
At present, it is confirmed that the price exceeds the expected high price, and technically, it is expected that the price will fall and a phase of adjustment will be created.
In addition, the trend line angle shown by the red line is supporting the current rise, and it is possible to forecast an adjustment phase once below the trend line.
From the price movements that tend to be overpriced, it is better to look at the adjustment once and then consider the buying place again.
Of course, since the trading volume is the largest ever, it is possible that the price will be updated further. Ideally, you should tolerate the risk and "prepare" to keep up with the rise or wait for the fall.
Cryptocurrency Stack (STX) Summary
This time, " Crypto currency Stack (STX) and the? Future and the latest of the major exchanges chart analysis was the theme of".
The following is a summary of this article.
Blockstacks rebranded to "Stacks (STX)"
Full of good materials such as SEC qualification and Stack 2.0 → 44 times in one year
Technically, there is a high possibility that it will go down once, so it is waiting for adjustment.
Stacks is an altcoin that boasts the highest transaction volume among crypto assets. From 2020 to 2021, it has achieved a 44-fold surge and outstanding performance. Behind the surge was SEC qualifications, the launch of the mainnet, and significant advances in substantive projects. Even as a long-term holding stock, it can be said that it is very reliable because it can coexist with Bitcoin.
About Author